Mad Chickens by Schon Entertainment is a fun physics based game where you have to destroy the mad chickens and their eggs.
With 30 levels to test your skills and dexterity, you must wield your axe and cause optimal damage to ingenious structures in order to destroy the mad chickens and their eggs. To quote a classic Bananarama song 'It's not what you do, it's the way that you do it, and that's what gets results.' In other words, how you plan to wreak havoc with your axe and where you strike determines the outcome of your score and level award.
The main screen when you open the app has great sound control options, as you can either turn the music on or off or alternatively turn the sound of the chickens on or off. This sound control is present on all levels throughout the game. From the main screen you can check out your high scores or go straight into gameplay.
Each level is signified by a bird's nest which is a really fun touch by the developer. The first level that you play involves touching various objects such as wood or ice to cause damage to a crazy looking lone chicken with her eggs. You must tap the screen to bring up an axe and do some damage. One thing I noticed is that the developer has really paid attention to detail on the levels, for instance, if I try to use the axe on metal a metallic sound can be heard.
When you clear a level you are notified of any new high score you've obtained and are given a rank for how well you cleared the level, such as 'Beginner', 'Not Bad!, 'Incredible!' or 'Awesome!'. You can see the score you achieved together with a click bonus and there are three navigation buttons where you can replay, move to the next level or go to the main menu.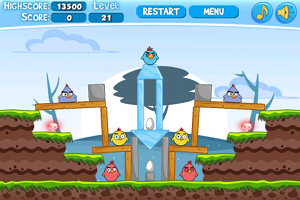 The background art is really nice with cartoon landscapes in a strong style. You are sometimes given prompts and tips on some levels which pop up every now and again which help you learn the actions involved. When I first saw this app on the app store I initially thought that it would be a 'Crush The Castle' type game involving launching a missile at various structures. I was pleasantly surprised that Mad Chickens was instead something quite different and unique.
There are coloured diamonds which give you extra points, TNT crates, stone pillars,boulders, wooden beams and ice, which can be chopped up with your axe and there are many creative variations on each level. The developer has obviously planned out each level well before programming the physics objects into the game. When a level has been completed, you are given a few seconds to enable all physics objects to fall and settle in case this gives you extra points, plus you have the option of doing a few more chops with your axe to get those extra diamonds. The chickens are well animated, as they turn their heads to the side, blink and even flap their wings. When you chop at a piece of wood or ice you must determine the best strike point strategically to create the collapse of structures within the game.
Mission Accomplished
As I've said previously, I was pleasantly surprised that this was not a 'launch a missile' type game and instead was quite unique in the fact that you use touch to wield an axe to destroy structures. The game is fun to play and the mad chickens are great characters. The interface is simple and straightforward and not over complicated which made jumping into the actual gameplay easy, with prompts to give you tips on tactics to use. The game is fun to play and the website connected with the game has been very well put together by the developer.
The game has a well compressed, compact size of only 11.2 MB, which is amazing considering the graphics and physics objects involved.
Room to improve
Some of the prompts had slight grammatical errors, this is no big deal however and can be easily corrected on the next update. I will send corrected versions to the developer. Obviously, people will be demanding more levels in the game so I'd suggest adding levels in increments of ten up to at least 60 to provide even more gameplay for downloaders of Mad Chickens.
When I saw the app description on the App Store, I instinctively thought that it would be a 'launch a missile at structures' game as I'm sure a lot of other people will think too. Therefore, it may be a good idea to stress on the app description that this game is unique in that there is a touch screen controlled axe that causes damage.
As for ideas on additions to this fun app, here are some suggested enhancements:
Perhaps a short animation that plays just once when you first open the app would be a good idea. The reason being is that people like a strong story behind a game and a clear idea of just why they are targeting crazy chickens. Take Sega's Sonic The Hedgehog for example, where the character sells the games.
Hidden bonus levels that can only be unlocked if you score high in previous levels would provide an extra incentive for gamers to go after those high scores and replay levels..
I'd also like to suggest to the developer that including particle emitters in the game might be a fun idea, as you could have snow falling, rain, lightening or leaves falling in the background, set at a low emission rate obviously as otherwise it would slow the game down. Also, a layered background might be a consideration, as you could have clouds passing in the sky or air balloons flying past in the background, set in front of the background but behind the physics objects.
Conclusion
A really fun game to play and a physics game with a twist, where you don't launch things at structures, but instead you use an axe and touch to control the aiming of your chops. I really enjoyed playing Mad Chickens and the chickens were really funny. Mad Chickens is offbeat, whacky and fun and brought a smile to my face.
Review overview

Creative app idea
Graphics
Audio
Level depth

Summary

4.5
[shareaholic app="share_buttons" id="4703992"][shareaholic app="recommendations" id="4704000"]