Wiper Messenger: Private Texts and Calls
Features
Wiper is a free app that is available for iOS and Android. It essentially takes the best of WhatsApp and combines it with the privacy features of Snapchat to create something of its own.
Whereas apps like Cryptocat and Cyber Dust are limited to text and photo messages, Wiper is not. This app also doesn't have an automatic deletion time for received messages. Whereas Snapchat, Cryptocat, and Cyber Dust messages are all deleted after a few seconds or when the app is closed, Wiper leaves it up to users to decide when to wipe their conversation.
Conversation wiping is accomplished by tapping on the desired conversation's contact, and then tapping the "Wipe Conversation History" button. After confirming a wipe, all history will be removed from your device and your contact's device, along with any temporary information on Wiper's servers.
If you're curious what sort of media Wiper supports sending and receiving, then you'll be happy to know that it supports virtually everything. In addition to sending text messages and photos, Wiper also allows for sending videos and voice messages, as well as making HD audio calls.
In addition to communicating through Wiper, users can also share YouTube videos with each other as well as favorite videos. Not to mention that Wiper also has its own Bitcoin wallet functionality which makes it easy to accept and send Bitcoins to any other wallet, as well as to any other Wiper user.
Mission Accomplished
Wiper makes it really easy to begin chatting privately. If your friends and other contacts have not yet downloaded the app, you can invite them to start using it. Sometimes, contacts may get the app without you inviting them, at which point you'll be able to see them within your Wiper contact list automatically.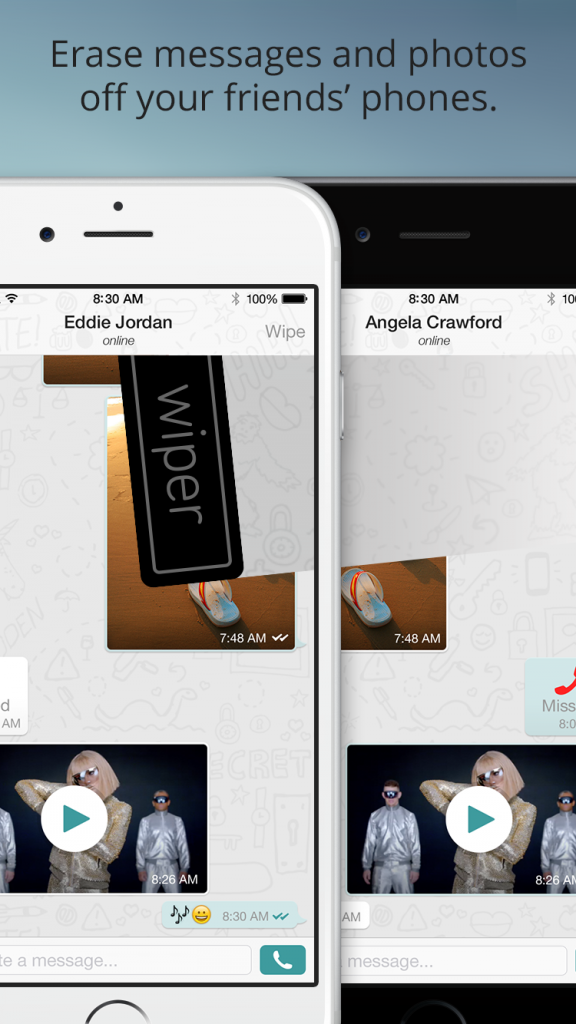 Users that link a phone and email to their profile will also be able to automatically connect with their friends that have linked their phone and email as well. Such information is not made public or shared with contacts, but rather it is only used by Wiper to connect contacts that already know each other. If you have a contact named Bob with phone number 702-323-4343 for example, whenever he signs up you'll see him in your Wiper contact list automatically.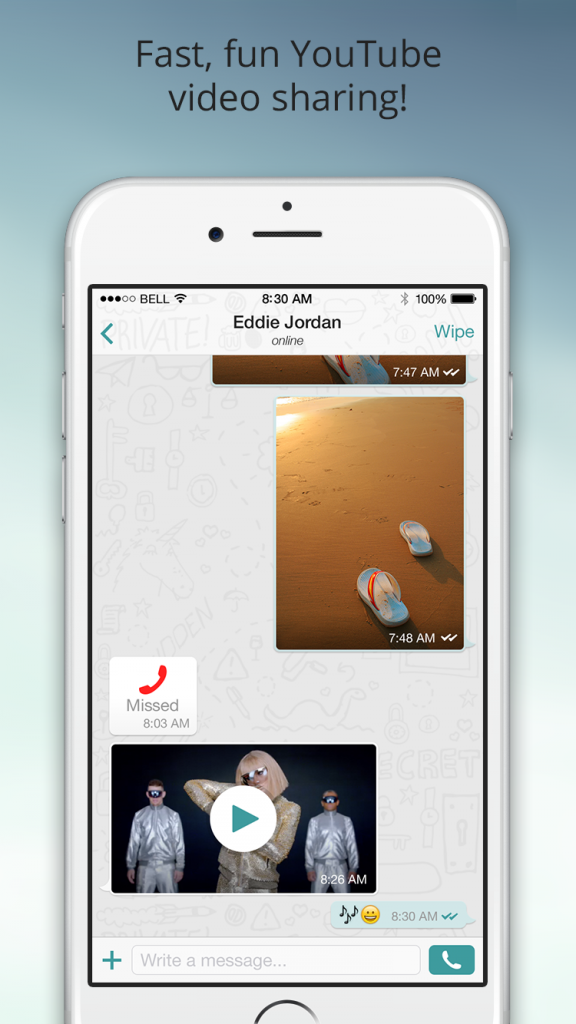 The fact that Wiper supports sending and receiving virtually all media types is also really great because it eliminates the need for other privacy communication applications. Furthermore, if a contact attempts to screenshot your messages or copy them, you'll be alerted of such activity.
Room to improve
On conversation pages, the "call" and "info" buttons are also repeated twice in the user interface. At the top of all conversations there's two buttons "Free Call" and "Info," even though there's a phone icon for making free calls next to the message field of all conversations. Info on a conversation can also be accessed by typing on the contact's icon.
The "Free Music" section powered by essentially a search bar for YouTube videos is also not quite valuable. Videos can be shared with contacts which goes directly into their YouTube inbox playlist, and videos can also be Favorited. An app such as Wiper which already combines private communication and Bitcoin transactions just doesn't make sense to also serve "Free Music" for its users. If a contact wants to share a YouTube video with their own contact, they could just copy and paste in a YouTube link as desired.
Conclusion
Wiper has had more than $2.5 million of investing and it shows. Wiper is one of the best apps available for simple and secure communication.