Rejoin Your Ex by Payam Pakmanesh is an app with methods on how to rejoin your ex, repair bridges and find happiness once again.
It can happen to the best of us, maybe you were in an argument and it escalated, with things said that have had lasting damage. Or perhaps one partner has neglected the other through the stresses of daily life, or perhaps a clash of different personalities caused a riff.
You may be alone now, but all is not lost, as with Rejoin Your Ex there are step by step methods to follow in order to make up with your ex partner. This app is tailored to give advice to both men and women.
15 Phases
There are fifteen phases focusing on specific methods in this app, which you must read thoroughly as they will be the key to success in the long run. You must follow the instructions to complete each phase, bringing you closer and closer to a happy reunion.
Intelligent Design
This app is intelligent in that it works with you to personalise the methods to plan a route to success. The app asks you specific questions in the phase steps to tailor advice focusing on your own unique break-up situation. In other words, this is an app that investigates the reasons for your break up and offers solid advice to counter negative effects with positive action.
Let's face it, when you break up with someone you are generally in a state of shock – your head feels messed up. It can seem unclear as to how to mend bridges and regain the trust or love that was once so strong. It's as if a fog is hanging over you and around you, and more often than not you will feel like you lack the energy and focus needed to repair the situation, due to feeling sad. The world suddenly seems an empty place and things that once seemed interesting now look dull and grey. Fear not though, as this app will pull you out of the fog of indecision and repair your empty world to be full of happiness once again.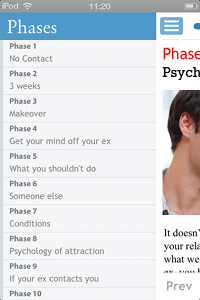 Interface
This app sports a nice and easy to use interface and the program leads you into the phases with ease. There is a short explanation of the intentions of the app before you are led into the first question. For example, the first question is asked: "When was the last time you talked to your ex?"
From this point the main interface gives you the option of viewing the phase overview by pressing the top left button. The top right button brings up the settings options. There is a progress bar in the top centre of the screen to inform you of your state of progress through the phases. The progress bar is specific to a key task within Rejoin Your Ex. The function of the progress bar is explained in phase 2.
There is also a 'Home' button and a 'Next' button. Each advice module has pictures to make the app more colourful. Very easy to navigate around and is clear cut.
Advice Quality
The advice is very clearly presented and sometimes surprises you. For instance, you may think that contacting your ex will be the best idea on instinct, but think again . . . what about timing and approach? Regain Your Ex gives you the timing and approach needed for optimal chances of success. There is advice on the power of silence and patience, which can be utilised for much more effect than force or immediate direct action at times. In all, the advice is deep and surprises you with twists and turns. It is rooted to psychology and arms you with powerful new skills to use. At points in each advice phase you are given a memorable quote which I think is a nice touch.
To use an analogy, picture yourself playing a game of chess but being beaten, you lose your Queen (partner), your rook (lust for life) and bishops (hope and joy). It looks like you are in a losing situation, but by having this app at your side it's as if extra pieces suddenly appear on the board of life for you to use. Giving you an advantage in what was otherwise a dire situation. Regain Your Ex gives you the tools to get back into the game with a Grandmaster in relationship psychology sitting by your side.
What impressed me about this app was that many areas are tackled, such as tackling your mindset, to create a frame of mind that also has direct results physically. After all, just sitting there dwelling on how the break up happened, eating chocolate and sitting by the phone all day isn't going to help, plus it will make you seem desperate and weak. This advice makes you stronger and thus more appealing to your ex and also other members of the opposite sex. Put it this way, after following the advice in this app, a strong mindset and positive drive matched with action makes you a magnet for people wanting to feed off of your positive energy. So you may end up attracting members of the opposite sex other than just your ex!
Get The Edge – First Date Assessment (Optional Download)
Rejoin Your Ex is a complete app. There are no in-app purchases required to complete the phases, everything is included in Rejoin Your Ex. There is an optional purchase you can opt to download, which is about body language and signals that people give off when they are attracted to you. Invaluable when you are looking for feedback on how a meeting with your ex is panning out emotionally. There is uncontrollable attraction body language when two people who like each other interact, and this download promises to make you aware of these signals and gain a 6th sense. I decided to download this extra option to check it out. Here's what I found . . .
This optional information download was very interesting and well worth it. There is advice on reading the eyes, a genuine smile, posture, posture height, intimacy, personal space, hand gestures, eye contact and more. Along with four tricks to test the water on whether or not someone is attracted to you or feels comfortable around you. These tricks you can employed without your ex even noticing.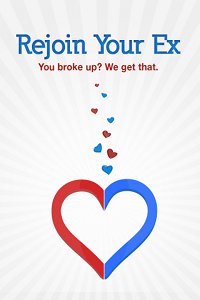 Clear Plan
Rejoin Your Ex does not give wishy-washy advice. The app gives clear cut direction. For instance, it tells you straight whether or not to send a break up letter, view their social media profile or attempt to make them jealous. This way, if you are upset, lacking focus and drive, you can just leave it to the app to direct you along the map of phases and routes, to take on specific actions when it comes to which direction to turn at  'do' and 'don't' decision junctions.
Example: What should you do if your ex is seeing someone else? Should you approach them about it? Should you mirror them and do the same? Or should you stay single and wait? Rejoin Your Ex will tell you exactly which option to choose with solid reasons as to why.
Mission Accomplished
Rejoin Your Ex is a great idea. The app can take the stress and anxiety out of how to react and what steps to take in regaining a loving relationship with your ex. It's like having guidance from someone standing at your side. I think that with this app you will have the very best chance at repairing a damaged relationship and finding mutual love once again. The app is easy to navigate around and has some very psychologically advanced advice, which is interesting and sometimes surprising to read, as it gets you thinking outside of the box.
Room to improve
On the iPod Touch 4th generation the app sometimes closed itself down just a few times. I would recommend to the developer to test the app on a 4th gen iPod Touch and iron out this small glitch. This is understandable though as new apps often have a few glitches to iron out. No big deal however, as this did not stop me from using the app, as I just restarted the app and went straight back onto the phase that I was on. Again, this is no big deal and can be sorted out with a future update.
Conclusion
I really enjoyed going through the advice in Rejoin Your Ex. Even though I personally haven't broke up with my partner, I still found the information extremely interesting and absorbing. A lot of the advice can be applied to different life situations as well. I think that it is a wonderful idea and will help people who are in a very dark place. There are many game apps available, but when an app comes out that helps people like this app does, it is a refreshing change. The developer has not only produced a great app, but will also help a lot of people too.
Update: If you want to sample Rejoin Your Ex before buying the full version, Rejoin Your Ex Lite is available where you can experiment with one third of the full app's capabilities to assess if Rejoin Your Ex is for you.