Build The Ultimate Gaming Machine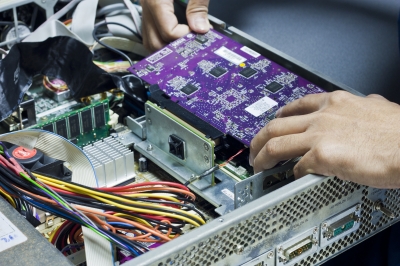 You can buy a pretty good gaming rig off the shelf, but for the best looking, highest performing, buddy annihilating gaming computer, you have to build it yourself. It takes time, a little effort, and some money, but the results are worth it. Here are a few of the options for a mad gaming computer.
Case
The case is the foundation you build your computer on. The wrong case will limit your options when choosing the components that actually make a computer. For gaming, a tower case is the best option. Towers come in three sizes: Full, Mid, and Mini/Micro. For a serious gaming rig, you will want a full or mid tower. Full tower cases can be $200 or more, but they can handle more fans for cooling, more expansion cards (if your motherboard can hold them) and have lots of room for liquid cooling. Plus, a full size gaming tower just looks like it can chew up the competition. Look for more expansion slots, built in cable management, and the ability to mount multiple cooling fans. A good full tower case is the Cooler Master Haf X w/ SuperSpeed USB 3.0. Mid towers have less room than full towers, but still have enough room for multiple expansion slots, multiple expansion cards, and cooling options including several fans and/or liquid cooling. They may not be as intimidating as their larger brothers, but some look quite lethal. Most Mid towers are less than half the price of a full tower. The Aerocool Xpredator-X1 is a good mid tower for under $100.
CPU
The CPU is the heart of the computer. Today there are two choices: AMD or Intel. Intel is currently king of the high-end processor. The Intel Core i7 3960 is a six core processor â?? it has six processors on one chip – and requires a LGA2011 socket motherboard. It costs about a $1000. The i7 3770 has four cores, uses the LGA1155 socket and is about $300. AMD processors work well in budget gaming systems. They are very stable when overclocked (set to run faster than rated by the factory) and offer good value for the money. For gaming, the AMD FX-6300 is the best option at about $140. It has six cores. The FX-8350 is AMDâ??s premium processor, but does not offer much better performance for its $190 price tag. The FX-6300 requires an AM3+ socket motherboard.
Motherboard
When choosing a motherboard you have to decide what type of CPU to use, Intel or AMD. AMD has had trouble keeping up with Intel the last few years, so most serious gaming computers use an Intel CPU. Once you have decided on the CPU brand, you have to make sure the motherboard supports as much RAM as possible. Graphics are also important, so choosing a motherboard that can support high-end graphics cards is essential. One of the best motherboards on the planet is the Gigabyte GA-Z77xUP7 for about $400. It uses an Intel i7 Socket LGA1155 CPU, can handle 32GB of RAM, and supports the baddest graphics cards available. The ASUS Rampage IV Extreme Republic of Gamers motherboard supports LGA2011 socket CPUs and costs about $400. The Gigabyte AM3+ GA-990FXA-UD7 is a similar board for AMD CPUs and costs about $240.
Graphics
Graphics are the bread and butter of a gaming computer. The graphic card can be more powerful than the main CPU, and it needs to be. The graphic card creates is responsible for all of the visuals of your games. It takes a lot of power to make realistic fog or water, and the best cards cost. At the high end, you can buy an NVidia Geforce GTX 690 for around $1000 or an Asus Radeon HD 5970 for about $1100. The next best cards would be the NVidia Geforce GTX 680 or the Diamond AMD Radeon HD 7970 at about $450.
Storage
The best gaming computers have a combination of storage types. You need a solid-state drive (SSD) for access times approaching RAM access and a large, fast hard drive to hold the massive amounts of information used by todayâ??s high-end games. SSD prices have dropped quite a bit, so a 128GB drive costs around $130. Conventional hard drives are also very reasonable. You can buy a 2TB drive for around $100. Gaming systems used to use RAID technology to decrease hard drive access times, but the advent of SSD technology has made RAID unnecessary for gaming.
RAM
RAM is important for performance. RAM holds data pulled from the HD or SSD until the CPU needs it. RAM is the fastest way for the CPU to access data, so you want as much RAM as you can manage. Both of the motherboards mentioned above support up to 32GB RAM, but for best performance, they cannot use the same type of RAM. The Gigabyte GA-Z77xUP7 requires DDR3 2400. The Gigabyte AM3+ GA-990FXA-UD7 requires DDR3 2000. Both types of RAM cost about $215 for a 16GB kit.
Conclusion
Building a high-end gaming machine is not cheap. But it is cheaper than buying one, and more fun. Building a top end Intel based machine from the parts described here would cost about $3,345. That will get you a computer in a full tower case with an i7 3960 on an ASUS Rampage IV Extreme Republic of Gamers motherboard, an Asus Radeon HD 5970 graphics card, 32GB RAM, a 128GB SSD and a 2TB HD. Just add Windows and your favorite game and you are ready to obliterate your friends.

Rodney Warner is an avid gamer and contributor to the video game review website QT Gaming.

Image courtesy of Surachai / freedigitalphotos.net

[shareaholic app="share_buttons" id="4703992"][shareaholic app="recommendations" id="4704000"]