avast! SecureLine VPN

Over the past year, things have been pretty hectic with the government and its breach of privacy. People all over the world have been shocked by recent NSA revelations that uncovered massive breaches of the constitution or even security company bribes.
However, the NSA isn't the only agency in the world that spies on its people and other countries. Germany, France, China, Russia, Zimbabwe, Syria, Iran, New Zealand, Bahrain, Canada, Vietnam, and the United Kingdom have all been discovered to spy on their people in some way or another.
The majority of the spying that agencies worldwide partake in is facilitated by weak internet security. Not by weak computer security of consumers. I literally mean the backbone of the internet itself has horrible security.
All spying agencies have to do is setup a few nodes around the world that pass internet traffic through their devices which then route it back to their buildings and backup systems. That means that any email, conversation, or message you send over the internet (including iMessage and Skype) is most likely being recorded and stored (and backed up) indefinitely.
To protect against such privacy breaches from your government (or other governments that your internet passes through) your only option is to encrypt all of your internet traffic: so that even if it is compromised, it will be encoded so that no one else can look at it.
Meet avast! SecureLine VPN.
Features
SecureLine VPN is an app that sets up a virtual private network (VPN) connection on your phone. Without a VPN all of your internet traffic is more or so available to anyone to record and save forever. With a VPN, all of your internet traffic is encrypted.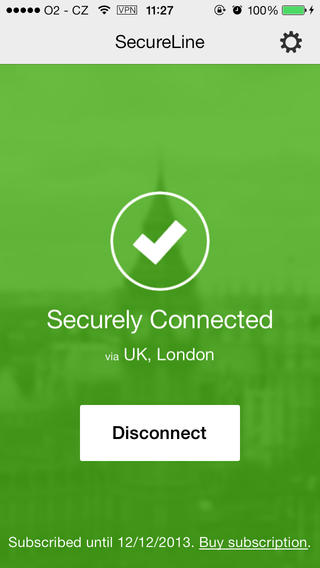 When you visit a webpage your computer makes the request for the page through your VPN, then your request travels to a remote computer which then makes the request for you and forwards you the data. This way you're not only protecting your identity and IP from websites, but all of your traffic is also safe.
The only caveat is that your traffic has to be encrypted by your VPN provider once it arrives to their computers. Using a VPN provider that is not trustable is really risky. The reason avast!'s VPN solution is so great is because avast! itself is a security company. They provide computer users and businesses with antivirus software as well as other security solutions. If there was one company you'd trust with your internet traffic it's avast!
Mission Accomplished
Setting up the VPN profile on your phone is quite simple with avast!'s SecureLine VPN and can be done in under a minute. Once you've got it setup the internet speed is extremely fast even though your traffic has to travel twice as much through the VPN connection, not to mention that it has to be encrypted and decrypted as well. This is one of the fastest VPN services I have ever used.
There are plenty of locations to pick from to optimize speeds (ranging from US and UK locations). Not to mention that there is also a traffic compression mode which lowers your data usage by compressing webpages.
Room to improve
I didn't see an option for buying a 2 or 3 year subscription. Which is a bummer for the people out there that just want to buy a VPN and not have to worry about it for a good while.
Conclusion
Even if your private life is "innocent" and won't get you in trouble if every government is looking at it and backing it up, doesn't mean that you should have to accept such a privacy breach. avast! SecureLine VPN is an app that is really worth every penny if you value your privacy.
This app is free for 7 days so you can determine if it's right for you, but after that you will have to add another month for $2.99 or another year for $19.99.