What is 'World of Tanks'?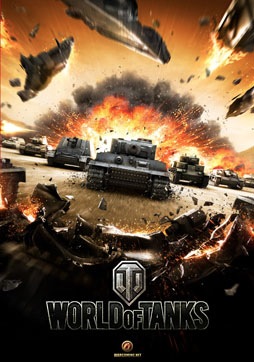 From Wargaming.net comes World of Tanks, a fighting game that takes you inside the most powerful tanks from the mid-20th century as you do battle with other ultimate fighting machines.
With over 240 vehicles from 7 different superpowers from around the globe, World of Tanks takes you inside explosive warfare action like never before.
World of Tanks offers players the chance to step inside some of the most brutal tanks and armored fighting vehicles to ever scorch the earth. Players can fight other tank commanders from around the world online in different modes of battle; from one on one to full-on clan battles, World of Tanks has covered it all.
Battle modes include:
Random Battles (Standard, Assault and Encounter)
Team-Training Battles
Tank-Company Battles
Clan Battles
Every exciting battle mode offers different goals and achievements, with new ways to destroy your opponent. In Random Battles you are tasked with capturing an enemy base, and destroying the enemy before time runs out. Encounter mode will find you battling in a race against time to capture a base and destroy the tanks of a second commander, aiming to take your prize. In Assault mode tables are turned as you are forced to defend you own base from the enemy onslaught.

You can also try your hand in Team Battle, to test your skill and leadership against enemies that you are paired with based on your skills, skills and accomplishments! Brush up your skills by performing some Team Training battles, where you can hone your skills and test new strategies. Private or public, this is the chance to test and learn so that you can be at your very best in every battle.

Looking for accomplishments and new goals to aim for? Look no further than Tank Company mode, where you create your own team in different divisions: Junior, Medium, Champion and Absolute. Each division has new goals for you to achieve as you build your way through the ranks.

When you are ready for the ultimate in tank warfare, look no further than Clan Battles. In the Clan War mode, you create your own clan that you set upon the world for total domination. Battle your friends, or take over provinces on the global map, to prove you are the elite warrior.

Just like in real warfare, there is just one kind of tank, you need a strong fleet of vehicles to get the job done. Thatâ??s why World of Tanks has vehicles in five different categories: light tanks, medium tanks, heavy tanks, tank destroyers and self-propelled guns (artillery). These monster war machines run the range, and you will find them divided into seven nations: Soviet, German, American, French, British, Chinese, and Japanese- with more on the way!

Every vehicle is historically accurate, painstaking detail has gone into recreating these classic tracked vehicles. You will also find that level of detail in the battlefields, which have been modeled after historical battlefields in different regions. Soon, you will see even more battlefield maps and over 500 tanks to choose from. This is a world that is only going to get bigger.

Click here to view the most expensive tank in the world . . .

[shareaholic app="share_buttons" id="4703992"][shareaholic app="recommendations" id="4704000"]