Top 7 Bizarre Prehistoric Creatures
Although dinosaurs are the most popular prehistoric animals, there is a whole range of creatures most people donâ??t know about. Forget the tyrannosaurus and triceratops and join us for a list of uncommon alienistic creatures.
Helicoprion
This creature lived during the Late Permian (280 million years ago) and was very bizarre indeed. The only evidence we have of this shark is the fossil of a curled coil with triangular teeth. Helicoprion had a lower jaw bone that would curl down, and it looked very menacing! This jaw was achieved by the growing of new teeth, and the old teeth would be pushed further back; some experts think the Helicoprion used its jaw to grind down shells of mollusks. The Helicoprion was about 15 feet long and weighed anywhere from 500-1000 pounds.
Epidexipteryx
The name says it all, â??display feather.â? The Epidexipteryx was a bird-like dinosaur that had feathers but was not able to fly. It also had four long structures growing from its vertebrae. The tail is believed to have been used to attract mates or scare away enemies. This birdâ??s fossils were found in China and the creature lived in the mid to late Jurassic Period (152-168 million years ago). The Epidexipteryx was 25 centimeters high and 44.5 cm. if you included its tail. It was no bigger than a pigeon.
Megalodon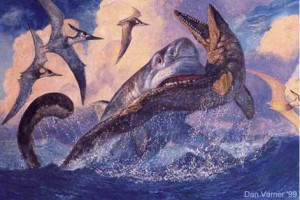 The biggest prehistoric shark and also the largest predatory marine creature to have ever lived; you wouldnâ??t want to cross paths with this thing. The Megalodon had teeth that were about 7 inches long which is what inspired its name â??giant tooth.â? The creature had a biting force of 10.8 â?? 18.2 tons, which you can compare to a whale which only has about 1.8 tons of force. Megalodon was over 60 feet long and the only animal that could sustain it was whales. Rest assured Megalodon could crush the skull of any whale with the same ease you eat crackers. While some believe this shark still roams the oceans, it lived 28-1.5 million years ago during the Cenozoic Era. Megalodon may have become extinct due to global cooling or the shrinking population of giant whales.
Edestus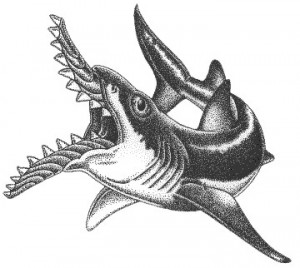 This shark was roughly the same size as a Great White Shark. It had some of the scariest teeth in all of nature! The Edestus continually grew teeth but did not shed them, which made its jaw push out. Old teeth would remain and protrude in such chaos that it makes it difficult for experts to know what this creature preyed on. The Edestus lived during the Late Carboniferous (306-299 million years ago).
Epicyon
Epicyon is possibly the largest prehistoric dog that ever lived. Its Greek name means â??more than a dog.â? It was about 5 feet long and weighed in at 150 pounds. Although the Epicyon was not built for speed, it was built for fierceness. This dog would fall somewhere in between a pitbull on steroids and a coyote, seeing that it may have eaten already dead carcasses.
Spinosaurus
Spinosaurus was thought to have been a made up dinosaur for Jurassic Park, although it was actually real! The original fossils held in Munich were destroyed by an Allied bombing raid in WWII. New fossils have been recently discovered and it now known that Spinosaurus was bigger than Tyrannosaurus rex. While the T-rex was only 42 feet long, the Spinosaurus was about 56 feet long! This makes it the largest carnivore to have ever lived! The Spinosaurus could weigh in up to 10 tons and lived 112-97 million years ago (in the Cretaceous period). It had a lizard like spine that stretched up from its back and primarily fed on fish. The spine may have been a result of females picking the creatures with bigger spines, or it may have helped regulate its body temperature.
Liopleurodon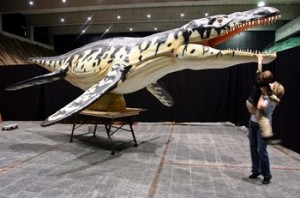 The Liopleurodon was a lean mean eating machine that lived during the Late Jurassic Period (165 to 150 million years ago). It was about 40 feet long and weighed 25 tons. Although it was very big, this creature was able to move very quickly through the water. Most experts agree that it swam with its mouth open and caught any fish/squids that crossed its path. If the Loch Ness Monster was real I would have to say it would probably be a Liopleurodon or a Plesiosauria.

Article written by Octavian Ristea.

[shareaholic app="share_buttons" id="4703992"][shareaholic app="recommendations" id="4704000"]