Tank Tech – The Latest Advances In Tank Technology
During the First World War tanks only had a couple of requirements such as being able to cross an eight foot gap and reaching top speeds of 4mph on flat land. By the time the Second World War began, Allied forces were still using outdated tanks designed for trench warfare; while Germany used their Panzers in the blitzkrieg part of the war.
Germany's PanzerKampWagen I was capable of reaching 23mph and was armed with only a machine gun. Hitler wanted to avoid the stalemate of the First World War and instead came up with ways to break any defenses that would stand in Germanyâ??s way.
If anti-tank guns were more advanced and the Allied forces had similar tanks we can assume that Hitler wouldnâ??t have moved as fast throughout Europe. In modern warfare battle tanks are an essential weapon and it is only obvious that they must be routinely improved to avoid surprises such as the lighting war Germany employed.
Force Fields
Although this type of technology may sound like fiction, it is has already been invented by researchers from Rafael Advanced Defense Systems and Israel Aircraft Industriesâ?? Elta Group. The Trophy system is a temporary forcefield that defends against RPGs.
When an RPG hits a tank head on, the warhead blasts a jet of hot copper at 1,000mph. Thatâ??s enough to cut through a foot of solid steel amour! You can understand why it would be very useful to disable a warhead before it hits a tank.
The Trophy system works by creating a temporary forcefield when a rocket is detected. A supercapacitor releases its charge into the metal amour of the tank and neutralizes an RPG in the air; by the time the RPG hits the side of the tank, it is already useless. This technology actually requires the same amount of electricity you use to start your engine on a cold morning. Recharging the supercapacitor is also fast and efficient.
Battle tanks protected by the Trophy system can withstand repeated attacks from RPGs that would usually destroy tanks without this technology many times over. The best part is that there is less than 1% chance of injury to nearby soldiers when RPGs are neutralized in the air. With the use of this technology the weight of tanks will be able to be reduced by 70% over the next decade.
Stronger Armor
By drilling holes into steel armour the Defense Science and Technology Labortory has been able to halve the weight of armor while making it more efficient. This new armor is called Super Bainite Armour steel. With the addition of holes in the steel, bullets are more likely to strike the edge of a hole, causing them to spin and effectively reduce projectile potency.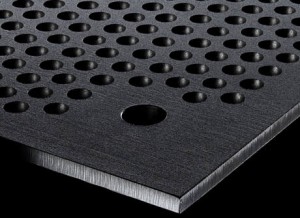 While the Trophy system can protect battle tanks from rocket grenades and other explosives, Super Bainite armour can better protect tanks from bullets. With the implementation of both technologies, tanks may become very light in the near future.
Infrared Camouflage
Science may not be ready for hiding objects in plain sight, although it is ready for its infrared equivalent. Infrared is used in night-vision goggles and aircrafts that show targets in hot and cold. It is used to identify enemies and vehicles during the night.
Adaptiv is a new battle tank technology developed by BAE and the Swedish Defence Material Administration. By utilizing over 1,000 5.5 inch hexagonal tiles capable of manipulating thermal signals; Adaptiv is able to deceive infrared devices. Adaptiv can completely blend in with its surroundings while stationary or while on the move. It would look a bit dubious if infrared shows nothing in the spot that you heard or saw something; so Adaptiv is also able to give off a heat signature of a car while blending in the rest of the tank.
The way this technology works hasn't been revealed, though we can guess that the hexagonal tiles probably heat up or cool accordingly to create this illusion. Since the titles are relatively big, the best effect is when the tank is observed from 300 to 400 meters. Adaptiv is also able to give off heat signatures of a cow, trashcan, a crowd of people, and even text.
The best part about this technology is that it can be used on ships, helicopters, and more. Adaptiv certainly looks very promising, except for the fact that it also looks easily damageable.

Fuel Tanks
NuMat technologies recently developed new fuel tanks that are able to store the same amount of gas at one-fifth the pressure. The new material has trillions of pores which absorbs gas. With this new technology the cost of battle tanks and refueling stations could be reduced by 20-30%. A very big improvement when you look at hundreds of battle tanks that require reinforced fuel tanks and fueling stations. This technology is expected to enter the market within five years.

Article written by Octavian Ristea.

[shareaholic app="share_buttons" id="4703992"][shareaholic app="recommendations" id="4704000"]