Hidden Camera by AppFlyer is a clever app, with a whole lot of functionality that enables you to take secret photos.
Do you want to catch a thief? A cheating partner? Or perhaps you might see something underhanded that you wish to capture in a photo, then make it known to the world. You can even upload the photo to Facebook or your Dropbox account.
There are many useful settings on Hidden Camera, to be used depending on the situation where you want to snap your secret photo.
Let's start by looking at the functionality of this handy app when it comes to camouflage.
Camouflage Settings
If you want to take a secret photo, you must look like you are not using the camera. So when you open up the app you will see four sliding buttons to aid you on your mission: Camouflage Camera, Shutter Trigger, Photo Storage and Start Shooting. These sliding buttons when pressed reveal an array of settings. In the camouflage settings menu you can choose from 3 very ingenious disguises.
Black screen camouflage
This camouflaged screen gives the impression that your iPhone is switched off. In all of the camouflaged modes you simply press the lower right hand corner of the screen to take a photo. To exit photo mode you only have to tap the bottom left hand corner of the screen twice to return to the main menu.
Website camouflage
This option will take you onto the Internet and it will look like you are surfing webpages, when in reality you are ready to snap a photo.
Application camouflage
This function I find particularly ingenious, it opens a fully functional sketch pad, with a colour palette and different pen tools. Enabling you to shoot a secret photo whilst looking completely innocent, engrossed in doodling. This mini app within Online Hidden Camera allows you to doodle or create graffiti as a cover for your covert picture taking.
* Please note that you need to mute the sound on your iPhone using your device's side 'mute sound' button. If you snap a secret pic and have the camera's sound button on it's not going to be very James Bond like, spy wise.
Shutter Trigger
There are some really neat options in this mode. The first of the three options is . . .
Manual mode
As you will probably guess, manual mode gives you the standard, and no doubt most used option, of taking a one-off snap, or multiple snaps completely controlled by the device user.
Timer mode
With this crafty fox of a function you can set the camera to take pictures at regular intervals. Totally hands free operation! Let's suppose that you end up in a secret nuclear research facility by some freak chance, you wouldn't be allowed to take pictures. Not to worry though, just choose the black screen camouflage giving the appearance that the iPhone is switched off, set the timer and it will take pictures for you. How cool is that?!
Sound mode
This is a very advanced feature that will even impress the CIA no doubt. You can actually set the camera to take pictures when triggered by sound! Imagine that someone is raiding your fridge at night. Not a problem, simply place your iPhone facing the fridge theft scene and the noise of the fridge door opening will take a snapshot of the greedy gannet. Pictures are taken from the front facing camera in Online Hidden Camera.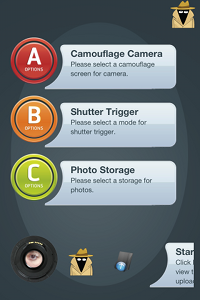 Photo Storage
This array of buttons allows you to save your photos in different ways. There are three options:
Save To Photo Album
By choosing this option you can simply save your secret photo directly to your device's photo album. If you want to keep the photo an absolute secret then this is the best option.
Save To Facebook
Save direct to your Facebook account. Have you seen someone being cruel to an animal? Have you spotted a scam that you want to expose? Then this is the option for you. Share it with the world.
Save To Dropbox
Save your picture to your Dropbox account with the option to also save the photo to your photo library. With this option, if someone accuses you of taking a hidden photo, you can show them your photo album, which will be clear if you didn't select the option to save the photo to your device's library, and you can say a flat "No, I didn't" but secretly know that the photo is sitting in your Dropbox account waiting for you.
Start Shooting
This is a very simple to use array of buttons, where you can click on the spy button, set your desired thumbnail size and photo quality setting, and enter shooting mode, ready to take that secret photo. You can also upload photos in this mode by clicking on the blue arrow button.
Mission Accomplished
There is a lot of functionality in this app, it's comprehensive, and there are many ways in which to take a secret hidden photo. The timer function is especially useful as the device will take photos automatically, hands free. This is a very powerful app and can expose scams or unfair play if used in a good way. The app is simple to use and easy to navigate around. I like the way that you are presented with a reminder on how to use the secret camera every time you enter 'Start Shooting' mode.
Room to improve
This app is great, but I always try and suggest improvements that will hopefully enhance the app even more if I can. One improvement I can see straight away is to change the app's icon. Don't get me wrong, the icon isn't bad, but it definitely doesn't stand out on my device. If the app icon was improved to stand out more on iDevices it would reflect the excellent quality of this app even more. Another idea is to incorporate an 'About / information' screen linked to the fun spy icon with the animated eyes in the top right of the menu screen. This could include developer information and a link to the developer's Facebook page or website.
Conclusion
This is an excellent app which has all the options that you'll ever need to take a secret photo completely undercover. If you are looking for an app to take secret photos, then this app will not disappoint you in any way. Just choose your camouflage disguise and settings, then you are ready to go. Incidentally, you can also have great fun with this app by snapping friends and family on a day out. When you present the photos to them or post them up on Facebook, they will be baffled as to where and how the photos came about. A cracking app!