Scanner Pro


A lot of the questions I get from friends and family about scanning apps sound like this: "Why should I download some 'scanning' app for my phone when I could just take a photo using the camera?" If you're not tech. savvy, then you have probably asked the same question yourself. Scanner Pro is the answer to that age-old question. Let me explain why.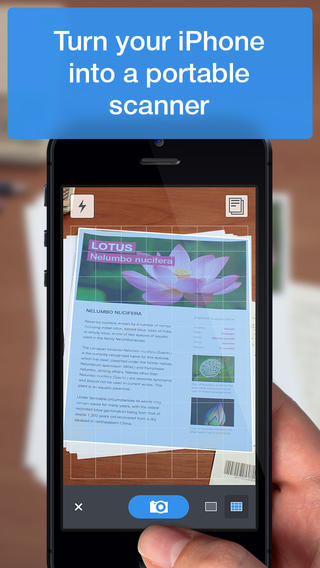 Merely taking a photo with your camera does portable scanning no justice. Shadows come up over the page, tilting isn't right, things look fuzzy, etc. Scanner Pro on the other hand fixes all of these issues by using special image-enhancing algorithms to boost the quality of your scan. The result is a straightened image with clear, high contrast text and images.
Mission Accomplished
Scanner Pro really out does all of the other scanning apps on the app store. In addition to processing images smartly it also detects page borders in real time. Not to mention that Scanner Pro can save scans as PDFs, upload directly to cloud storage and sync documents across all iCloud devices. Even the New York Times vouches for this app's elegant functionality:
"Scanner Pro is perhaps the best app for quickly scanning and saving a digital version of a paper document." – New York Times.
Room to improve
Honestly I don't think this app could be made any better. It's already so stable and full of features that it would be impossible to find something that's not up-to-par with it.
Conclusion
Scanner Pro is an app anyone should have on their phones. If you ever need to scan something it's better to have it installed than to wait five minutes for it to download over 3G/4G. Obviously if you scan things a lot from your phone, then there is no question about downloading this app today.