The Ultimate Guide to Classic Consoles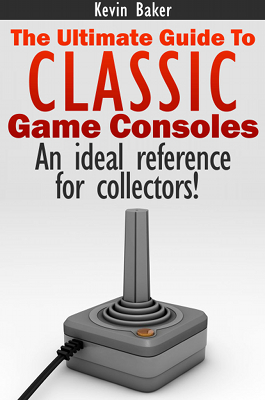 The ideal retro console collectors' guide, available in eBook format.
The ultimate guide to classic game consoles, with over 85 classic console reviews including write ups, specs and pictures. Every console worthy of collection is available in this eBook. Consoles from 1972 until 2000, from the Magnavox Odyssey to the Sega Dreamcast.
A fantastic reference for classic console collectors. Written by collectors and enthusiasts, for collectors and enthusiasts. Including the history of electronic gaming that led up to the first home gaming console being produced and advice on how to start collecting retro gaming consoles. For the experienced console collector this book will be an ideal reference guide.
Available from eBookit, iTunes, Kindle (Amazon), Kobo, Diesel eBooks, Google Bookstore  & Barnes & Noble.
Also available soon from Sony Reader.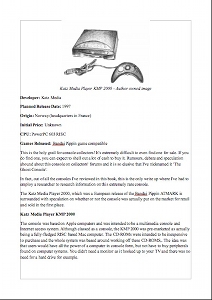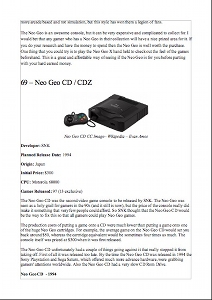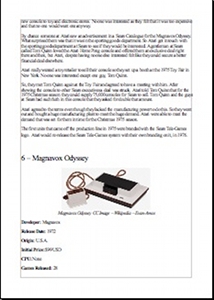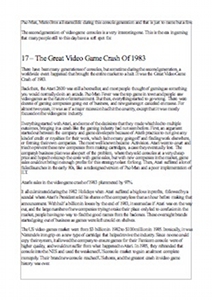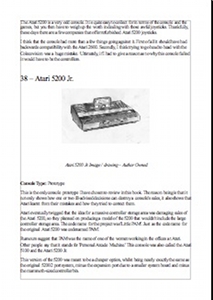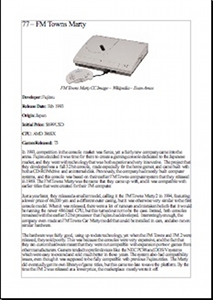 Table Of Contents
1) Introduction

2) Classic Game Console Collecting Guide

3) The Evolution Of Electronic Gaming

4) An Overview Of The First Generation Games Console Era

5) What Was Pong?

6) Magnavox Odyssey

7) Ping-O-Tronic

8) Coleco Telstar

9) APF TV Fun

10) Philips Odyssey

11) Radio Shack TV Scoreboard

12) Nintendo Color TV Range

13) Atari Video Pinball

14) Atari Stunt Cycle

15) Bildschirmspiel 01 (BSS 01)

16) An Overview Of The Second Generation Games Console Era

17) The Great Video Game Crash Of 1983

18) Gakken Compact Vision

19) Nichibutsu My Vision

20) Fairchild Channel F

21) RCA Studio II

22) Atari 2600

23) Atari 2600 Jr.

24) Atari 2800

25) Coleco Gemini

26) Bally Astrocade

27) Interton VC 4000

28) Magnavox Odyssey 2

29) APF Imagination Machine

30) Intellivision

31) PlayCable

32) Bandai Super Vision 8000

33) Intellivision II

34) CreatiVision

35) Epoch Cassette Vision

36) Emerson Arcadia 2001

37) Atari 5200

38) Atari 5200 Jr.

39) ColecoVision

40) Entex Adventure Vision

41) Vectrex

42) An Overview Of The Third Generation Games Console Era

43) Casio PV-1000

44) Commodore 64 Games System

45) Amstrad GX4000

46) Atari 7800

47) Tomy Pyuuta Jr.

48) Dina 2 In One (2-in-1)

49) Atari XEGS

50) Sega SG-1000

51) Sega Master System

52) Nintendo Entertainment System (NES)

53) NES 101

54) C1 NES TV

55) Famicom Disk System

56) Zemmix

57) Action Max

58) An Overview Of The Fourth Generation Games Console Era

59) Sega Genesis

60) Sega Mega CD

61) Sega 32X

62) Sharp Famicom Titler AN-510

63) Capcom CPS Changer

64) Katz Media Player KMP 2000

65) Sega Pico

66) TurboGrafx-16 / CD

67) SuperGrafx

68) Neo Geo

69) Neo Geo CD / CDZ

70) Commodore CDTV

71) Memorex VIS

72) Super Nintendo Entertainment System (SNES)

73) SF-1 SNES TV

74) Model SNS-101 (SNES 2)

75) SNES-CD

76) Satellaview

77) FM Towns Marty

78) Philips CD-i

79) TurboDuo

80) Pioneer LaserActive

81) Super A'Can

82) An Overview Of The Fifth Generation Games Console Era

83) Virtual Boy

84) Bandai Pippin

85) PC-FX

86) Atari Jaguar

87) Atari Jaguar CD

88) PlayStation

89) Sega Saturn

90) 3DO

91) Amiga CD32

92) Casio Loopy

93) Playdia

94) Nintendo 64

95) Nintendo 64DD

96) Panasonic 3DO M2

97) Sega Dreamcast

98) Summary

Available from eBookit, iTunes, Kindle (Amazon), Kobo, Diesel eBooks, Google Bookstore  & Barnes & Noble.

[shareaholic app="share_buttons" id="4703992"][shareaholic app="recommendations" id="4704000"]